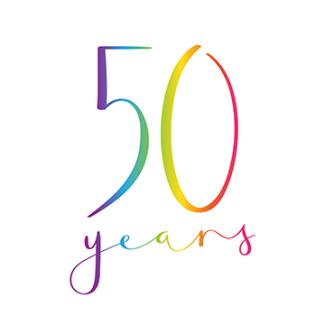 50th Anniversary Celebration
Beginning spring term and continuing through AY 2023-24, the Center for the Study of Women and Society (CSWS) will celebrate its 50th anniversary with speakers, symposia, exhibits, performances, and more programming that speak to the theme of "Feminist Futures."
"At the Center, we have always believed that the project of feminism is unfinished and boundless," says Sangita Gopal, CSWS director and associate professor of cinema studies. "CSWS and its mission is now more urgent than ever as we contend with the grave situations that women and their allies are confronting worldwide—from reproductive injustice, statist repression, the growing war on LGBTQIA+ populations, and escalating domestic violence to economic precarity and climate catastrophe. Feminists everywhere, every day, are working to ameliorate these conditions even as they strive to find joy in collectivity and creativity."
Five Decades
Founded in 1973 as the Center for the Sociological Study of Women, the center expanded and became CSWS in in 1983 when financial analyst and Fortune editor William B. Harris willed $3.5 million to the UO Foundation, which at the time was the largest single gift the University had ever received from a single donor. Harris's gift established the "University of Oregon Fund for the Study of Women" in honor of his wife Jane Grant, a pioneer second-wave feminist and co-founder of The New Yorker.
Today, CSWS has more than 200 affiliated UO faculty and graduate students who generate and share research with other scholars and educators, the public, policy makers, and activists. This vibrant community of feminist and allied researchers come from a broad range of fields in arts and humanities, law and policy, social sciences, physical and life sciences, and the professional schools. Over the last five decades, the Center has awarded more than $2 million in research grant funding to UO researchers, including the prestigious and highly competitive Jane Grant Dissertation Fellowship that supports doctoral candidates in their final year of research and writing.
"Our task at the Center is to promote and disseminate intersectional research across the disciplines that supports the struggles of women and their allies by producing knowledges and practices to contextualize, historicize, and direct such actions," Gopal says. "We hope our communities in the University and beyond will stand with us as we imagine, debate, and present a year of programming celebrating feminist futures."
Spring 2023 Events
This year-long theme kicks off Friday, April 21, with "Just Get On the Pill: The Uneven Burden of Reproductive Politics," a book talk by Krystale Littlejohn, associate professor of sociology at UO. This talk also marks the start of a collaboration between CSWS and UO Common Reading for events focused on the topic of reproductive justice in the upcoming year.
"Given how so many accomplishments of feminist research and activism have eroded in the present political climate, we felt Krystale's research on reproductive justice was a fitting theme to launch our upcoming year of programming," Gopal said.
The book talk and reception will be held 3–5 p.m. in the Knight Library Browsing Room, 1501 Kincade Street, Eugene.
Also this term, CSWS presents "Haunting Ecologies: The Past, Present and Future of Feminist and Indigenous Approaches to Forest Fire." This two-week event series, April 24–May 4, includes the 2023 CSWS Acker-Morgen Memorial Lecture, "Desire in the Aftermath of Environmental Violence" by Michelle Murphy, University of Toronto; and the panel discussion "Native Ecologies" on Indigenous histories and approaches to fire management, knowledge production, and ecological stewardship. The lecture and panel discussion are scheduled in conjunction with "Ghost Forest," a photography exhibition by Eugene artist Sarah Grew and featuring Jon Bellona's sound installation "Wildfire" at the LaVerne Krause Gallery.
Presented in collaboration with the Environmental Initiative's "UO by Environmental Justice" (UOxEJ) programming, "Haunting Ecologies" events are scheduled as follows:
Ghost Forest exhibit and Wildfire sound installation, April 24–May 4, LaVerne Krause Gallery, Lawrence Hall. Open hours: Monday–Thursday, 9 am–5 pm.
Native Ecologies panel discussion, 4–6 pm Tuesday, April 25, 115 Lawrence Hall. Ghost Forest exhibit opening reception immediately following in the Lawrence Hall lobby.
More information about "Haunting Ecologies" events and speakers is available on the CSWS website.
2023-24 Events
While 50th anniversary programming for the coming year is still in development, CSWS will be collaborating with schools, departments, programs, and centers across campus to present a variety of events linked to the theme of "Feminist Futures" including:
a keynote address by Anita Hill, professor of social policy, law, and women's, gender and sexuality studies at Brandeis University;
an intergenerational conversation between feminist filmmakers Miranda July and Su Friedrich;
a moderated discussion with former New Yorker editor Tina Brown;
an author visit and talk by Diana Greene Foster, professor of obstetrics, gynecology and reproductive sciences at UC San Francisco and author of The Turnaway Study: Ten Years, a Thousand Women and the Consequences of Having—or Being Denied—an Abortion;
and an alumni symposium and end-of-year anniversary celebration.
All events are free and open to the public.