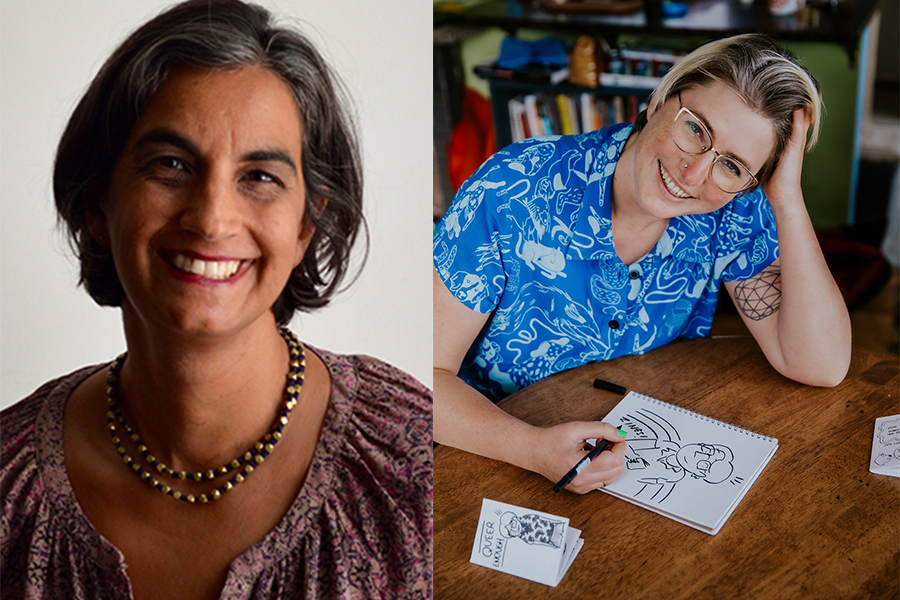 The University of Oregon's Center for the Study of Women in Society (CSWS) is partnering with Comics Studies to present literary agent Anajali Singh and graphic journalist Sarah "Shay" Mirk in conversation on Nov. 2. The event is part of CSWS's year-long 50th anniversary programming on the theme of "feminist futures."
 
Before becoming an agent, Singh worked as an editor at Vintage Books, Houghton Mifflin Harcourt, and Simon & Schuster, and as editorial director at Other Press. Best known for having championed and successfully acquired Marjane Satrapi's Persepolis, Singh has helped to launch the literary careers of Chimamanda Ngozi Adichie, Samantha Hunt, Preeta Samarasan, Brigid Pasulka, and Saleem Haddad, among others. 
 
Mirk is a graphic journalist, editor, educator, zine-maker, and the author of Guantanamo Voices (Abrams 2020), which Kirkus called "extraordinary … an eye-opening, damning indictment of one of America's worst trespasses." They are also co-author of the forthcoming Drawn from the Margins: The Power of Graphic Journalism (Abrams 2024). Mirk is an instructor in Portland State University's MFA program in Art and Social Practice, and their comics have been featured in The Nib, The New Yorker, Bitch Magazine, and NPR. 
 
On Thursday, Nov. 2, 2023, Singh will discuss her radical feminist career in publishing with Mirk. The talk and reception will be held 5–7 p.m. in the Knight Library Browsing Room, 1501 Kincaid St., Eugene. The event is free and open to the public. Please RSVP your attendance here.
Read more and stay up to date with upcoming CSWS 50th anniversary programming at https://csws.uoregon.edu/50th-events.