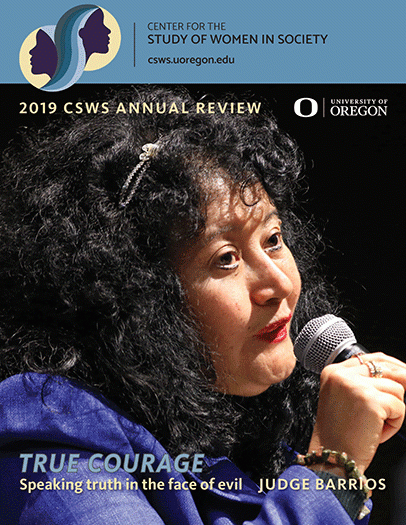 2019 CSWS Annual Review
see also: https://issuu.com/csws/docs/2019_csws_annual_review
The 2019 CSWS Annual Review is now available online. In this issue, you can read about the research of faculty members Angela Joya, Lamia Karim, Nicole Giuliani, Alaí Reyes-Santos & Ana-Maurine Lara, Mayra Bottaro, and Maria Fernanda Escallón, as well as graduate students Celeste Reeb, Elinam Amevor, Layire Diop, Peter P. Ehlinger, and Andrew Robbins. You can review highlights from the 2018-19 Academic Year and take a look at upcoming CSWS events. You can also read news and book highlights about UO faculty and graduate students. And there is more! Print copies are available upon request.
Gender, Power, and Grief
by Michelle McKinley, Director, CSWS 
2018-2019 Year in Review
Spotlight on New Feminist Scholars
Reflections on My Year at CSWS by V Varun Chaudhry, Instructor, Brandeis University
Faculty Research
After Work: Female Workers in in the Garment Industry in Bangladesh by Lamia Karim, Associate Professor
Political Economy of the Middle East : A Conversation with Angela Joya Interview by Michelle McKinley and Alice Evans
Studying Ways to Boost the Immune Health in Mothers of Young Children by Nicole Giuliani, Assistant Professor
Decolonizing Knowledge: Caribbean Women Healers Project by Alaí Reyes-Santos, Associate Professor, and Ana-Maurine Lara, Assistant Professor
Unstable Fetishisms: Gender, Class, and Labor in Nineteenth-Century Fiction by Mayra Bottaro, Assistant Professor
Palenqueras and the Trap of Visibility by Maria Fernanda Escallón, Assistant Professor
Closed Captioning: Reading Between the Lines by Celeste Reeb, Jane Grant Fellow, Department of English
Graduate Student Research articles
Graduate Student Research
Closed Captioning: Reading Between the Lines 28
by Celeste Reeb, Jane Grant Fellow, Department of English
On the Backs of Women: Participatory Communication for Livelihood Empowerment of Women under Ghana's 'Planting for Food and Jobs' Program by Elinam Amevor, PhD Student, Media Studies
A Study of NGOs' Strategies to End Fistula in Senegal by Layire Diop, PhD Candidate, Media Studies
Seeking Understanding of the Experiences of Non-Cis Students: Developing an Affirmative Substance Use Preventive Intervention
by Peter P. Ehlinger, Doctoral Student, Counseling Psychology
Minor Genre, Major Revolution: Queer and Punk Histories of the San Francisco Transgender Film Festival (1997-2017) by Andrew Robbins, Doctoral Candidate, Media Studies
News & Updates
Looking at Books