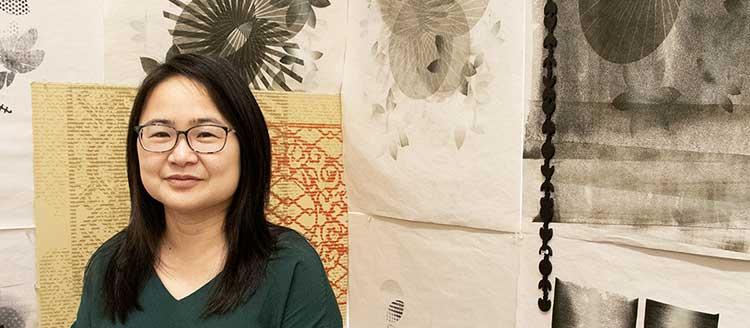 Editor's note: To celebrate Women's History Month, Around the O is celebrating 10 extraordinary UO faculty members including Charlene Liu, Associate Dean and Interim Diretor of School of Art + Design. See the full article here. Liu is a CSWS faculty affiliate.
Charlene Liu
Associate Dean
Interim Director of School of Art + Design
College of Design
When Charlene Liu, associate dean at the College of Design and interim director at the School of Art + Design, was an undergraduate art student one of her professors, who she said, "taught printmaking with a fluid and experimental approach," had a strong influence on her creative path. She also introduced Liu to the works of many inspiring women artists, including Rina Banerjee, Ellen Gallagher, Polly Apfelbaum, Florine Stettheimer, and the surrealist works of Remedios Varo and Leonora Carrington.
She also drew inspiration after college from a close-knit group of artists who helped one another make the move from school to a creative life in New York City. "Together we built studios in industrial spaces, shared opportunities for jobs and exhibitions, and introduced artists and curators."
Today, Liu pays it forward with her own students by encouraging them to foster skills and creative connections that will help them build a sustainable creative practice after graduation.
"I often employ studio assistants to help produce my creative work for an exhibition. They learn advanced techniques and how to manage deadlines and budgets," she said. "These experiences have a positive impact on their studio practice and give them insights into the professional practices of an artist."