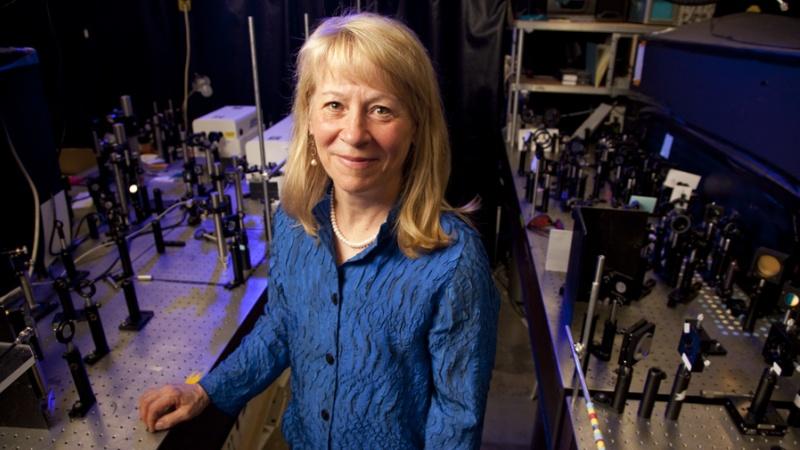 Editor's note: This story originally appeared in Around the O. Geri Richmond is a CSWS faculty affiliate.
University of Oregon chemist Geri Richmond has once again been recognized for her contributions to the field of science. Richmond is adding a top award from the Oregon Historical Society to her numerous accolades and honors, including a National Medal of Science she received from President Obama in 2013.
The Oregon Historical Society has named Richmond one of their Oregon History Makers, an honor bestowed on three Oregonians every year for helping shape the culture, history and landscape of Oregon. Richmond joins a handful of other notable ducks who have received this award, including Ann Curry, Allyn Ford, Phil Knight and Nicholas Kristof.
"Professor Richmond is internationally renowned not only for her pathbreaking scientific discoveries but also for her pivotal role in promoting women in science," said Bruce Blonigen, dean of the College of Arts and Sciences. "We are very proud to celebrate her tremendous achievements as emblematic of the innovative and progressive culture of our state and university."
Richmond specializes in understanding the molecular processes that occur on liquid surfaces and the environmental and technological relevance of their chemistry and physics. Her research has contributed to a better understanding of issues like energy production, the remediation of chemical spills and atmospheric chemistry.
She first joined the UO as a chemistry professor in 1985 and was named the Presidential Chair of Science in 2013. She has held a number of leadership roles in the scientific arena throughout her career, including president of the American Association for the Advancement of Science, U.S. State Department science envoy to the Lower Mekong countries and presidential appointee to the National Science Board.  She is an elected member of the National Academy of Sciences and the American Academy of Arts and Sciences.
In addition to her national and international service, she is the founding director of COACh, a grassroots organization to help female scientists and engineers advance their careers and combat discrimination in their fields. The organization has supported more than 20,000 women in the United States and developing countries in Asia, Africa and Latin America.