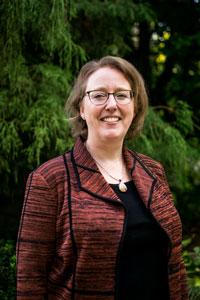 Editor's note: This story originally appeared in Around the O. Ellen Peters is a CSWS faculty affiliate.
Since COVID-19 first surfaced in December in China, the disease has spread rapidly around the globe, sickening nearly 100,000 people, killing more than 3,000 and rocking world markets as governments struggle to contain its reach.
In that emerging global health threat, Ellen Peters and colleagues in the School of Journalism and Communication and Department of Psychology saw an opportunity to learn about how people perceive risk around the new coronavirus that causes the COVID-19 illness and how that affects their decision-making, which in turn may help policy-makers better communicate around the crisis.
Peters, director of the school's Center for Science Communication Research, said most studies examining risk perception either ask people to respond to a hypothetical situation or interview people six months after a crisis, asking them to think back on what they were feeling as it happened.
"In this case, we're in the middle of it," she said. "We can watch as this unfolds over time."
Peters applied for a $187,351 grant from the National Science Foundation, which has recommended her study be funded. It will be several weeks before final, formal approval is granted, but Peters has already begun gathering data, hiring a panel of 1,300 respondents who will answer survey questions five times over the next five months.
The idea is to study how people perceive and react to the crisis, what information they pay attention to, who they trust and who they don't, and how the crisis affects future plans, choices of preventive and treatment options and support for policy options, Peters said.
"It is in our best interest to know better how to handle these global crises," she said, "and a lot of it has to do with people's emotional reactions, because those emotional reactions cause amplification of risk across multiple areas. Part of that is real things are happening — maybe you physically can't get supplies — but part of it is fear-based.
"Risks can get amplified emotionally and socially. That's what we're trying to understand more about."
Michael Silverstein, a graduate student in psychology who works with Peters, suggested the idea of a study of perceived risk around the new coronavirus on Feb. 6. Peters thought it was a great idea and knew there was an avenue for quickly getting funding for such a study.
Peters, Silverstein and senior research associate Brittany Shoots-Reinhard wrote the proposal and submitted it to the NSF's Grants for Rapid Response Research program at 5 p.m. Feb. 10. NSF recommended the project be funded the next morning.
Peters started collecting data Feb. 17, hiring a panel of 1,300 respondents through Amazon Mechanical Turk, part of Amazon Web Services in which online workers are paid to do various tasks.
"It was time-critical that we get a baseline before people were too, too concerned about it, because we want to see what happens as things change in the United States and change around the world," she said.
In addition, Peters and colleagues will analyze media content around the time of their surveys, she said.
She closed the first round of surveys after the Centers for Disease Control and Prevention told Americans to prepare for a COVID-19 outbreak in late February. That first round of answers will serve as a baseline for people's emotional reactions and risk perceptions.
COVID-19 is the name of the illness caused by the new coronavirus, which is known as SARS-CoV-2.
Peters hopes the study will reveal how people's emotional reactions influence their risk perceptions and the kind of behaviors they would take and what kind of government polices they would support.
"We're interested in how that plays out over time, side-by-side with how the media is reporting on the coronavirus," she said. "Part of what we'll be looking at is, who do people trust will take care of this? And then potentially we'll think about communication messages that test expert sources of information."
The results may also provide guidance to policy-makers on the best way to communicate in a global health crisis.
The ultimate goal, she said, is to learn "how do we best communicate with people so they take precautions that will help slow the spread of disease."
—By Tim Christie, University Communications