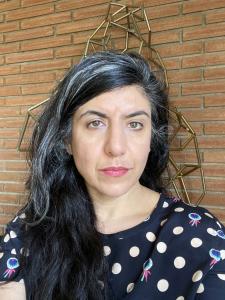 From Around the O—CSWS advisory board member Tannaz Farsi, Department of Art in the College of Design, is one of two recipients of the 2022 Presidential Fellowship in Arts and Humanities. Chosen from a pool of 50 applicants, the winners were recognized for their outstanding scholarly and creative records, respectively, as well as specific works in progress. Recipients will receive a $25,000 award to support their creative and scholarly work.
Farsi was recognized for her work on a project called Intermediaries, which the selection committee described as "rich" and "gripping." The committee was struck by the sheer beauty of Farsi's work and felt the proposed project would have great value to a broad audience. Farsi says the fellowship provides a thrilling opportunity at a critical time as it coincides with her upcoming sabbatical.
"I am honored to receive this funding alongside other incredible artists and scholars at the University of Oregon," Farsi said. "This award recognizes the value of art research and practice as a necessary means to engage and imagine ideas within our academic system and our world."  
Farsi said the fellowship will support travel and research toward sculptural works that derive their compositions from Persian miniature paintings.
"While I am intrigued with exploring the formal elements of composition inherent to the miniature, such as color, ornamentation, text and abrupt shifts in spatial logic," she said, "my specific challenge is to focus on ways current political and environmental circumstances, including the current truly feminist uprising that has exploded in Iran, can be inscribed into the sculptural forms I employ."
Farsi's practice overlaps sculpture, installation and image-making, allowing her to work within a serial structure to create interdependencies in meaning. She uses organic materials such as flowers and plants, creates spatial compositions from light, air and words, and she continually engages with the history and specificity of objects to address broader sociopolitical systems through both an analytical and poetic framework. 
The 2022 fellowship marks the inaugural year of a revamped presidential award to celebrate stellar faculty in the arts and humanities at UO. A pilot program from 2019-21 honored 30 faculty members for their contributions in "humanistic studies" more broadly.
This new award, focused on arts and humanities, celebrates a single faculty member in creative practice and a single faculty member in humanities. The president will host an event to honor the two recipients, display and discuss their projects, and welcome colleagues and students from the arts and humanities community on campus.
For the complete story, go to Around the O.