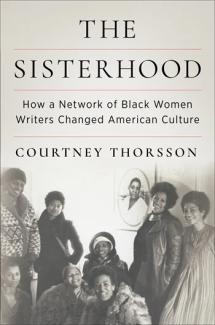 Courtney Thorsson, English, and the author of Women's Work: Nationalism and Contemporary African American Women's Novels (2013).
One Sunday afternoon in February 1977, Toni Morrison, Alice Walker, Ntozake Shange, and several other Black women writers met at June Jordan's Brooklyn apartment to eat gumbo, drink champagne, and talk about their work. Calling themselves "The Sisterhood," the group—which also came to include Audre Lorde, Paule Marshall, Margo Jefferson, and others—would get together once a month over the next two years, creating a vital space for Black women to discuss literature and liberation.
The Sisterhood tells the story of how this remarkable community transformed American writing and cultural institutions. Drawing on original interviews with Sisterhood members as well as correspondence, meeting minutes, and readings of their works, Courtney Thorsson explores the group's everyday collaboration and profound legacy. The Sisterhood advocated for Black women writers at trade publishers and magazines such as Random House, Ms., and Essence, and eventually in academic departments as well—often in the face of sexist, racist, and homophobic backlash. Thorsson traces the personal, professional, and political ties that brought the group together as well as the reasons for its dissolution. She considers the popular and critical success of Sisterhood members in the 1980s, the uneasy absorption of Black feminism into the academy, and how younger writers built on the foundations the group laid. Highlighting the organizing, networking, and community building that nurtured Black women's writing, this book demonstrates that The Sisterhood offers an enduring model for Black feminist collaboration.