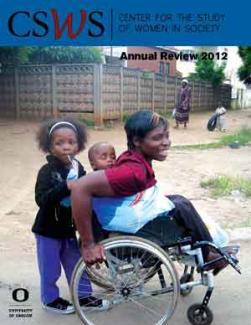 "The Rise and Fall of The Goldbergs," by Carol Stabile, director, CSWS, and professor, SOJC and women's and gender studies — Despite widespread support as evidenced through fan mail, this popular show by Jewish writer Gertrude Berg was ultimately squelched by anti-communist activists.
"Witnessing in the Americas: A Conversation with Gabriela Martínez," documentary filmmaker, SOJC associate professor, and the new associate director of CSWS.
"We Are the Face of Oaxaca: Testimony and Social Movements," by Lynn Stephen,  professor of anthropology and director of the Center for Latino/a and Latin American Studies — CSWS-funded research culminates in innovative book.
Research articles by UO scholars addressing the underrepresentation of women in STEM fields, rural gentrification and immigrant-centered labor, strategies of silence in American women's poetry, and more.
Articles