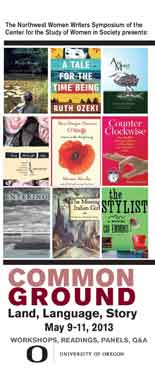 The Center for the Study of Women in Society presents:
2013 Northwest Women Writers Symposium  — "Common Ground: Land, Language, Story"
Thursday, May 9 panel with Ruth Ozeki and five others, Fir Room, 6 p.m., EMU, UO campus, 1222 E. 13th, Eugene. Free and open to the public.
Friday, May 10 reading & booksigning with Ruth Ozeki, 7 p.m., EMU Fir Room, 1222 E. 13th Ave., UO campus.  Free and open to the public.
Saturday, May 11 panel & workshops: Downtown Eugene Public Library, 10th Ave. & Olive St. (100 W 10th Ave Eugene, OR 97401). Free and open to the public.
Starting April 20, pre-register for limited spaces for Saturday afternoon workshops at: 541-682-5450 (Press 2).
The Center for the Study of Women in Society at the University of Oregon hosts the second annual CSWS Northwest Women Writers Symposium May 9 - 11, 2013 in Eugene in cooperation with Eugene Pubic Library. This event features: 1) a Thursday evening panel on the UO campus with novelist, filmmaker, and Zen Buddhist priest Ruth Ozeki and five others based on her novel All Over Creation; 2) a reading and booksigning on Friday, May 10, on the UO campus with novelist, filmmaker, and Zen Buddhist priest Ruth Ozeki from her newest work, A Tale for the Time Being (Viking, March 2013); and 3) a morning panel "Common Ground: Land, Language, Story" and afternoon workshops at Downtown Eugene Public Library on Saturday, May 11. The Saturday panel features writers Ruth Ozeki, Karen Holmberg, Karen Karbo, and Theresa May. The Saturday afternoon workshops feature writers Cai Emmons, Debra Gwartney, Cecelia Hagen, Evelyn Hess, and Lauren Kessler.
Sponsored by: UO Center for the Study of Women in Society, Women Writers Project. Cosponsors: Eugene Public Library; Oregon Humanities Center; Department of English; Department of Women's and Gender Studies; School of Journalism and Communication, and UO Libraries.
May 11 (9 a.m. - 11: 30)  Morning Panelists:
Ruth Ozeki, filmmaker, novelist (All Over Creation; My Year of Meats; A Tale for the Time Being), Zen Buddhist priest.
Karen Holmberg, poet (The Perseids; Axis Mundi), MFA director, associate professor of English and Creative Writing (poetry), Oregon State University. Recent winner of the John Ciardi Prize for Poetry for Axis Mundi (BkMk Press, University of Missouri-Kansas City; April 1, 2013).
Karen Karbo, novelist (Trespassers Welcome Here; The Diamond Lane; Motherhood Made a Man Out of Me); memoirist (The Stuff of Life); biographer (Kick Ass Women Series); young adult mystery writer (Minerva Clark series).
Theresa May, playwright (Salmon Is Everything), assistant professor, Department of Theatre Arts, University of Oregon; artistic director of Earth Matters on Stage. See Salmon, Women, and Rivers: Community-Based Performance Research by Theresa J. May (CSWS Research Matters, Winter 2011).
Moderator: Barbara Corrado Pope, novelist (Cézanne's Quarry; The Missing Italian Girl) is also professor emerita of UO Department of Women's and Gender Studies.
May 11 (1:30 p.m. - 3:30 p.m.) Afternoon Workshops
Fiction Workshop: The Incendiary Nature of Setting and Place — with Cai Emmons This workshop for fiction writers will explore one of the least-addressed aspects of fiction: the relationship between setting (land and place) and story.  Through discussion and writing exercises we will consider the following questions: How can setting give rise to story? How can setting animate story? How can setting function as character? How can setting provide a way to enter a story more deeply? Workshop Leader: Cai Emmons, screenwriter; novelist (His Mother's Son; The Stylist; The Seventh Tenet); teaches off and on in the UO Creative Writing Program. His Mother's Son won the 2003 Ken Kesey Award for the Novel, an Oregon Book Award.
Debra Gwartney's Workshop Has Been Filled — Memoir: The Narrator's Journey "The reader must believe the narrator is on a journey of discovery"--Vivian Gornick. In memoir, it's often the case that the person called "I" is on a journey of sorts—whether a journey across a strange and exotic land, or a journey from the tomatoes to the cucumbers in her own garden. This movement stirs the imagination, allowing for insight and reflection, as well as the recognition of change. In this workshop, we'll look at some examples of journey-based memoir, using specific exercises to fuel our own journey stories. Workshop Leader: Debra Gwartney, Live Through This: A Mother's Memoir, is a member of the nonfiction faculty for Pacific University's MFA in Writing program. Her memoir, published in 2009, was a finalist for an Oregon Book Award, PNBA Award, and National Book Critics Circle Award.
Finding the Resonance: A Poetry Workshop — with Cecelia Hagen In this workshop, we will look at memorable poems and write some of our own, with an eye toward finding the resonance. We'll work on making poems that are more physically resonant by identifying and intensifying the musicality of their words. We'll also look at emotional resonance—the quality that gets poems through to our non-verbal methods of understanding and appreciating them. Using both prompts and discussion, we'll build skills to locate what makes a poem resonate. Workshop Leader: Cecelia Hagen, Entering (Airlie Press, 2011); Fringe Living (26 Books Press, 1999), is a poet, editor, and teacher.
Finding Sustenance and Meaning in the Natural World: A Nature-Writing Workshop — with Evelyn Hess What could be more common than the land, air, water and green world that sustains us and the rest of our animal brethren? In this workshop we will examine works of authors attuned to the natural world; we will practice sharpening our perceptions and writing with attention. Then we will consider meaning and importance of the natural world in our memories, our spirit and our future. Workshop Leader:  Evelyn Hess, To the Woods: Sinking Roots, Living Lightly, and Finding True Home  (OSU Press, 2010) is winner of the 2011 WILLA Award in Creative Nonfiction. In her late fifties, she walked away from the world of modern conveniences to build a new life with her husband on 20 acres of wild land in the foothills of the Coast Range.
Crafting a Writing Life: A Real Writer is One Who Really Writes — with Lauren Kessler For writers of prose and poetry, fiction and nonfiction alike…How to stop self-sabotaging and find the time and creative energy to do what you tell everyone (including yourself) that you so very much want to do: write. Workshop Leader: Lauren Kessler is the author of My Teenage Werewolf,  Pacific Northwest Book Award winner Dancing with Rose, Oregon Book Award winner Stubborn Twig, and nine other books. Her newest book, due out in June, is Counter Clockwise: My Year of Hypnosis, Hormones, Dark Chocolate, and Other Adventures in the World of Antiaging. She is professor and director of the Multimedia Journalism master's program, UO School of Journalism and Communication.
Stay tuned for more details!
[nggallery id=18]