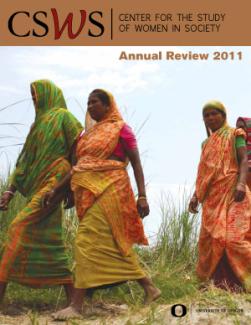 "Capitalism, Politics, and Gender: A Suicide in Shanghai"—Bryna Goodman, director of Asian Studies and executive director of the UO Confucius Institute for Global China Studies, writes about a legal drama at the center of her CSWS-supported book project.
"Studying Bollywood: An Interview with Sangita Gopal"—Globalization, isolation, couples, and changing gender roles.
"Heavenly Bodies: Tablighi Jama'at and the Regulation of Women in Bangladesh"—UO anthropology professor and associate director of CSWS Lamia Karim writes about her research among a group of women who belong to a pietist movement.
"Pakistan: Gathering Stories of Women in the Valley of SWAT"—UO professor Anita Weiss, head of the Department of International Studies, relates her story-gathering among women in this isolated valley regarding what they endured during the past decade at the hands of the Pakistan Taliban and subsequent invasion by the Pakistan military.
"Female Stars Are Born: Gender, Lighting Technology, and Japanese Cinema"—research by Daisuke Miyao, associate professor, East Asian Languages and Literature.
Articles