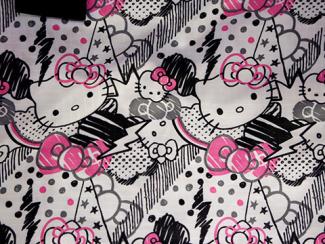 Noon talk with Joyce Cheng, Associate Professor, History of Art and Architecture. Talk description: "My talk considers the Japanese cultural icon Hello Kitty as an object for the history of art and aesthetics that epitomizes but also destabilizes the category of kitsch. On the one hand, Hello Kitty as a cultural product alarmingly actualizes what Andreas Huyssen has described as 'mass culture as Woman,' suggesting that the phenomenon is not merely a masculinist-modernist projection that attributes stereotypically feminine traits to the inferior, inauthentic culture of the masses. Serving the double function of what I call the ornament-allegory (a decorative motif endowed with minimal narrative and broadly auspicious meanings), Hello Kitty also satisfies to two impulses historically held responsible for kitsch or 'popular aesthetic': 1) what design and craft theorists have decried as an ornamental impulse assimilable to all objects and materials, and 2) an allegorical one that 'annexes aesthetics to ethics' (Pierre Bourdieu) by applying moral messages to aesthetic forms.
On the other hand, Hello Kitty also critiques anti-kitsch criticism in turn by exposing its simultaneous, potentially incoherent attack on form and content. If the ornamental and allegorical impulses both take part in kitsch's equivocal 'aestheticization of life' (Jacques Rancière), I suggest that they are also indistinguishable from those giving rise to trans-individual forms of art (for instance folk or traditional indigenous arts), which have been described variably as collective (by the art historian Alois Riegl) or 'commonist' (by the pop artist Andy Warhol)."
Attend in person, 330 Hendricks Hall, or by Zoom.