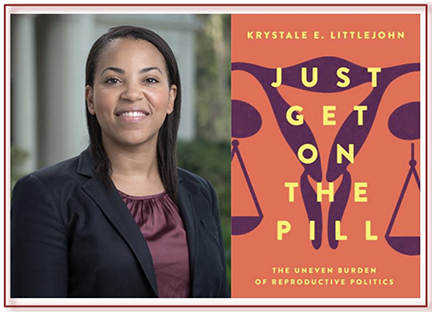 On Friday, April 21, Krystale Littlejohn, associate professor of sociology at the University of Oregon, will be giving a talk on her recent book, Just Get on the Pill: The Uneven Burden of Reproductive Politics (University of California Press, 2021).
Sponsored by the Center for the Study of Women in Society (CSWS), the event will also preview the Center's 50th anniversary programming for the 2023-24 academic year.
"Our theme for the 50th anniversary is 'Feminist Futures,'" said CSWS Director Sangita Gopal. "Given how so many accomplishments of feminist research and activism have eroded in the present political climate, we felt Krystale's research on reproductive justice was a fitting theme to launch our upcoming year of programming."
The book talk and reception will be held 3–5 p.m. in the Knight Library Browsing Room, 1501 Kincade Street, Eugene. Claire Herbert, assistant professor of sociology, will be introducing Littlejohn. The event is free and open to the public.
Just Get on the Pill book description:
The average person concerned about becoming pregnant spends approximately thirty years trying to prevent conception. They largely do so alone using prescription birth control, a phenomenon often taken for granted as natural and beneficial in the United States. In Just Get On the Pill, a keenly-researched and incisive examination, Littlejohn sets out to investigate how  birth control becomes a fundamentally unbalanced and gendered responsibility. She uncovers how parents, peers, partners, and providers draw on narratives of "male" and "female" birth control methods to socialize cisgender women into sex and ultimately into shouldering the burden for preventing pregnancy.  

Littlejohn draws on extensive interviews to document "gendered compulsory birth control"—a  phenomenon in which people who give birth are held accountable for preventing and resolving pregnancies in gender-constrained ways. She shows how this gendered approach encroaches on reproductive autonomy and poses obstacles for preventing disease. While diverse cisgender women are the focus, Littlejohn shows that they are not the only ones harmed by this dynamic. Indeed, gendered approaches to birth control also negatively impact trans, intersex, and gender non-conforming people in overlooked ways. In tracing the divisive politics of pregnancy  prevention, Littlejohn shows that the gender division of labor in birth control is not natural. It is unjust.
Professor Littlejohn received her BA in Sociology and Spanish Language and Culture from Occidental College in 2007, and her PhD in Sociology from Stanford University in 2013. She was a faculty member at Occidental College before joining the faculty at the University of Oregon. Professor Littlejohn's work examines race, gender, and reproduction. She is particularly interested in investigating how cultural categories shape behavior in intimate relationships and examining the consequences of these behaviors for health outcomes. Her work has been published in Demography, Gender & Society, and Journal of Health and Social Behavior, among other outlets. Her research has been supported by funding from the ASA Minority Fellowship Program, the American Association of University Women, and the Society of Family Planning.