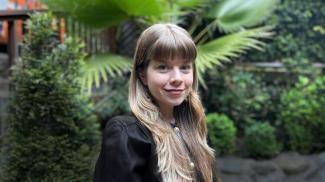 Location
Erb Memorial Union (EMU)
Britt Wray's fascinating and hopeful talk demonstrates the emotional and existential effects of living in a warming world—and how we can get through them together. Although anxieties surrounding the climate crisis can cause us to burn out, give up, and question deeply personal decisions like whether to have children, working through these anxieties can unlock a deep capacity to care for and act on climate issues. We need to look at the climate crisis as a whole—not just the political or technological issues, but the mental health consequences as well. These effects can be severe, even leading people affected by climate events to experience PTSD and a loss of identity. To combat this, Britt presents practical tips and strategies for healthily and productively dealing with our emotions, living with climate trauma, and strengthening our communities so we can combat climate change together.
Britt Wray is a Human and Planetary Health Postdoctoral Fellow at the Stanford Center for Innovation in Global Health, Stanford Woods Institute for the Environment and London School of Hygiene & Tropical Medicine Centre on Climate Change and Planetary Health. Her research focuses on the mental health impacts of the ecological crisis. Wray is the creator of the weekly newsletter about "staying sane in the climate crisis" Gen Dread (gendread.substack.com) and author of Generation Dread: Finding Purpose in an Age of Climate Crisis (Knopf, 2022).  Her first book is Rise of the Necrofauna: The Science, Ethics and Risks of De-Extinction  (Greystone Books, 2017). She has hosted several podcasts, radio and TV programs with the BBC and CBC, and is a TED speaker.
ASL interpreted event.