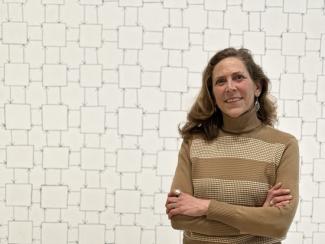 University of Oregon Visiting Artist Lecture Series
Presented by the Department of Art and Center for Art Research
This lecture will consider art made in the age of the mainframe, when computers filled entire rooms and had on average 256K of core memory.  "Coded: Art Enters the Computer Age, 1952-1982" relates to the recent LACMA exhibition of the same name and will focus on the earliest forms of digital art and the innovative artists who created them. Long overlooked, "computer art" (as it was called at the time) will also be considered in relation to the work of artists associated with contemporary mainstream movements like Op and Conceptual Art who also employed systems and algorithms as a generative practice (albeit without computers), as well as with that of artists responding to popular media perceptions of computers as, for example, "electronic brains". 
Leslie Jones was Curator of Prints and Drawings at the Los Angeles County Museum of Art from 2005-2023, where she organized numerous exhibitions including Coded: Art Enters the Computer Age, 1952-1982 (2023), Ed Moses: Drawings from the 1960s and '70s and Drawing in L.A.: the 1960s and '70s (both 2015),Drawing Surrealism (2012), and John Baldessari: Pure Beauty (2010). Jones writes regularly on the subject of modern and contemporary drawings and prints. Recent publications include: "Marks, Slowed Down: The Intaglio Prints of Julie Mehretu" (Julie Mehretu, Whitney and LACMA, 2019), and Allen Ruppersberg Drawing (Christine Burgin, 2014). Jones previously worked at The Museum of Modern Art and the Guggenheim Museum in New York. She participated in the Whitney Museum's Independent Study Program in 1993–94 and received her PhD from New York University's Institute of Fine Arts in 2003 with a dissertation on the ink drawings of Henri Michaux. 
Lectures are also live streamed and archived on YouTube