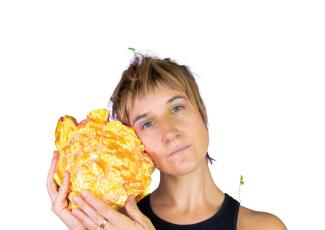 University of Oregon Visiting Artist Lecture Series
Presented by the Department of Art and Center for Art Research
Gracelee Lawrence's sculptures, relying equally on digital fabrication and hand augmentation, examine the relationship between food, the body, and technology at an exaggerated scale. A physical origin point is isolated and translated to digital space, often influenced by what is found in our ever more real and familiar internet world. As the barriers between digital and physical spaces dissolve, our perception of reality also shifts, and the compartmentalization encouraged in digital space leads to a new world less and less concerned with the human touch, yet Lawrence's work dips into both territories with equal aplomb.
Lawrence conjures a bushel of digitally-skewed fruits and vegetables dealing with hybridity, reproduction, humor, and sexuality. The sculptures are created from a combination of 3D scanned material, virtual reality sculpting, and fully digitally created assets, then 3D printed by Lawrence in their studio. The objects are all printed with polylactic acid (PLA) filament, a vegetable derived bioplastic most commonly made from fermented corn starch, continuing to link material and content. The interplay between the physical and digital methods, material poetics, and intrinsic humor creates a unique web of logic that Lawrence is known for. Considering produce as a vehicle for understanding hegemonic systems of power and control, nutrition and intimacy, and technological invention, Lawrence's sculptures dangle in the transfigurative space between digital and physical reality.
Lawrence has attended twenty residencies in the US and abroad and opened her second solo show in New York at Postmasters in June 2022 with a glowing review by Roberta Smith in the New York Times. She is currently an Assistant Professor of Sculpture at the University at Albany, SUNY. Recent exhibitions include Peter Gaugy (Vienna, Austria), PRIOR Art Space (Barcelona, Spain), Patrick Mikhail (Montreal, CA), Kavi Gupta (Chicago, IL), Turley Gallery  (Hudson, NY), and more. She has installed large-scale outdoor sculptures at the Upstate Immersive (Poughkeepsie, NY), Wave Hill (Bronx, NY), Museum of Museums (Seattle, WA), Franconia Sculpture Park (Shafer, MN), Mary Sky (Hancock, VT), and others. She is a recipient of the 2021-22 Individual Artist DEC Grant, a 2019 Jerome Fellow at Franconia Sculpture Park, a 2016-17 Luce Scholars Fellow, a recipient of the 2015 UMLAUF Prize, 2013 Eyes Got It Prize, and the 2011-12 Ella Fountain Pratt Emerging Artist Grant. Press for her work includes The New York Times, The New Yorker, ArtNet, Hyperallergic, Artspace, The Creative Independent, and MAAKE Magazine, among others. She is an enthusiastic dancer, a lifelong horsewoman, and a passionate gardener.
Lectures are also live streamed and archived on YouTube